Kaytoo is
AI-powered goal setting tailored motivational content accountability social network
In the midst of the COVID-19 pandemic, three friends graduating from Cornell University decided to keep in touch by Zooming every week... this is the story of how that weekly Zoom evolved into so much more.
Storytelling optimized for mobile Safari!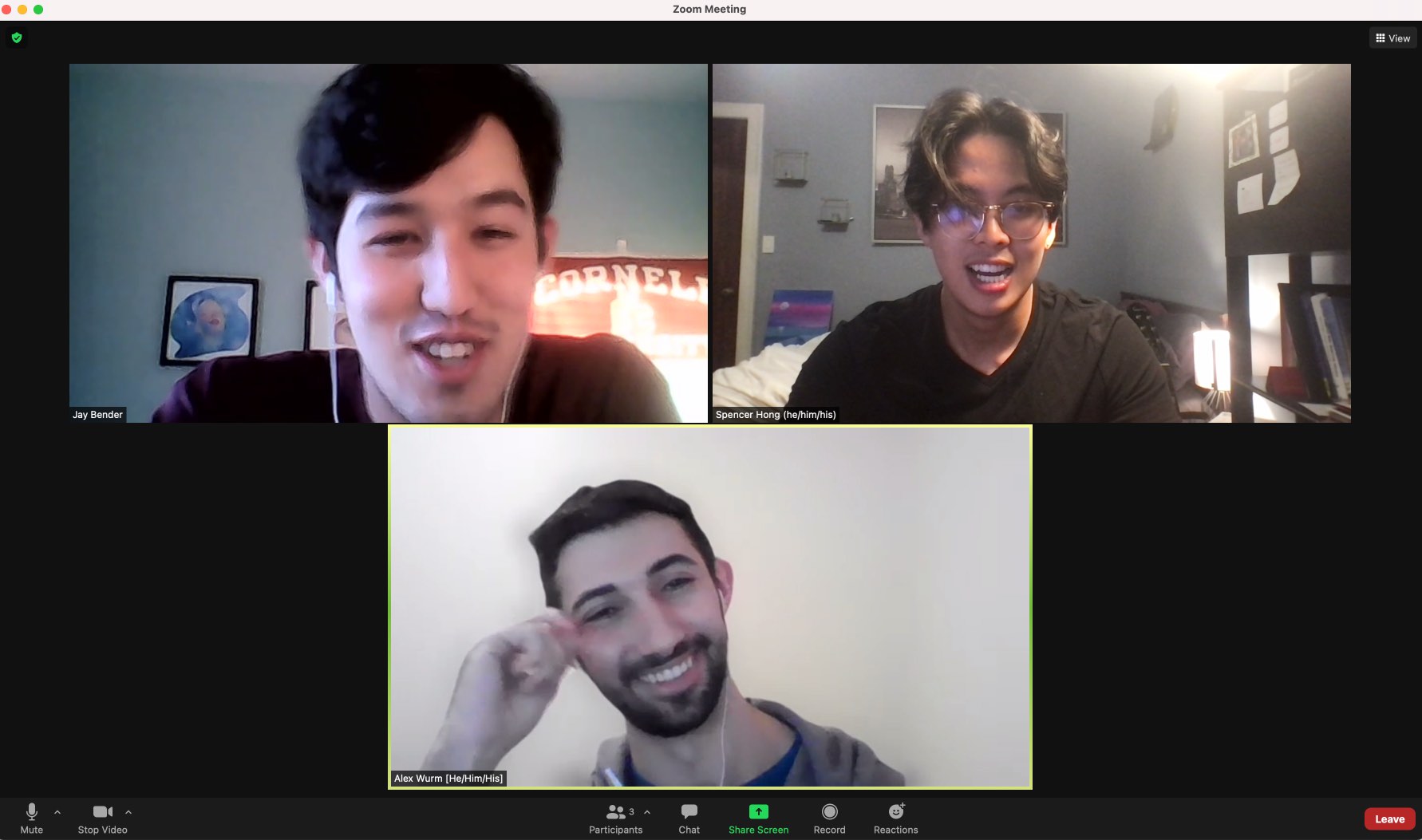 The Kaytoo founding team: From left to right, Jay Bender, Alex Wurm, and Spencer Hong.
Alex, Spencer, and Jay were completing their degrees in Chemical Engineering at Cornell when they had to unexpectedly say their goodbyes and leave campus in March 2020 due to the COVID-19 pandemic.
Before they knew it, they were each moving on to the next phase of their lives (Jay to attend a Ph.D. program at UT Austin, and Spencer and Alex to move to Chicago, where Spencer would start his Ph.D. at Northwestern and Alex would work at Bain & Company).
During brunch one morning, Alex and Spencer decided to start a personal development challenge based on the book "The 12 Week Year" by Brian P. Moran and Michael Lennington. Looping in Jay, the three of them began meeting weekly to discuss their goals, track their progress, and help overcome each other's greatest challenges.
All three of them share a vision of continuously learning and growing with intention throughout their careers.
Over the course of several months, these weekly accountability meetings became increasingly structured. The team became highly skilled at defining concrete actions and metrics to build habits and drive improvement. Alex even developed a customizeable Excel tool to log habits and visualize progress. Eventually, they began persuading other friends to start their own groups for the 12-Week program, and to document their experiences using this tool.
They initially received overwhelmingly positive feedback, but eventually all of their friends would cite diminishing marginal benefits of tracking their weekly progress in Excel. After getting into a routine of setting goals and holding themselves accountable for completing them, these friends began to question whether this very manual process was worth the time and effort.
Based on the feedback they received, the team determined this solution would be most effective as a mobile application. To provide long-term value to users, the tool needed to be simple, fast, and largely automated. This realization was a major turning point in the teams's journey, as they understood there would be considerable work required to deliver this app. The three of them set up a workspace using Notion and began the process of figuring out how exactly they would deliver an effective and enjoyable solution.
Each member of the team had unique skills to bring to the table: Alex had experience with market analysis, financial projections, consumer research, project management, and agile ways of working. Spencer had technical experience, working with deep learning and developing full stack pipelines as part of his research. Jay brought organizational and design skills, having worked on setting up a new lab at UT Austin.
Goal Setting Apps
Through their 12-week accountability project and experimentation with existing apps, the team learned some of the key attributes that limited the success of using traditional productivity tools to build habits and achieve goals.
They set out to build an app that could learn about the user's ambitions, interests, values, and schedule to recommend better tactics and routines that really motive the user to become the person they dreamed of being. They read extensively to understand the latest learnings in behavioral science research, and discussed books such as "Atomic Habits" by James Clear to decide on an approach for the initial design of the app.

Generalized

Time-intensive

Unrealistic

Complicated

Transactional

Diminishing utility

Inflexible

Generalized

Time-intensive

Unrealistic

Complicated

Transactional

Diminishing utility

Inflexible

Tailored to you

Social accountability

Affordable

Quick

Simple

Motivating and rewarding

Educational

Grows with you

Tailored to you

Social accountability

Affordable

Quick

Simple

Motivating and rewarding

Educational

Grows with you